The political support group, Democratic Network for Asiwaju/Shettima has declared unflinching support and readiness to work for the victory of Asiwaju Bola Ahmed Tinubu- Kashim Shetima candidacy as the All Progressives Congress Flag Bearer for the 2023 Presidential Election.
A frontier progressive and the Director General of the group, Admiral Samuel Alade Rtd while inaugurating the national executives of the group said the aim of the group is to canvas and convince the electorates on why they should massively cast their votes for the presidential candidate of the great party, His Excellency Asiwaju Bola Ahmed Tinubu the Jagaban of Borgu and his running mate His Excellency Kashim Shettima.
He further said that Asiwaju Bola Ahmed Tinubu is the most worthy to win the election and further that the development blueprint being used in Lagos State today was developed and approved by him.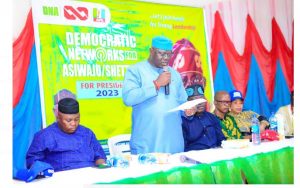 The Director General maintained that the group being approved by the National Chairman of the party will operate in line with the party guidelines and showed praise on the party stalwarts, leaders, members, youths, and political associates for their sacrifice for the support group.
The Democratic Networks was formed in 2018 specifically to drive the local government chairmanship election and Governor Akeredolu's reelection in 2020. This was in addition to helping to harmonize the APC family in Akoko North West LG. The group was very formidable and able to achieve its objectives as APC massively won the 2 elections.
This group has now been reorganized for the 2023 Presidential Elections with HE Asiwaju Bola Ahmed Tinubu as the APC Party Flag Bearer and to be known as Democratic Networks for Asiwaju/Shettima (DNA).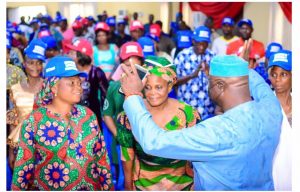 The support group was approved on the 20th of September 2022 by the national body of the APC headed by his Excellency Abdullahi Adamu to serve as a support group for the party and to ensure that, our activities are in synergy with the party's guidelines and constitution.
Admiral Alade Rtd encouraged the members to accept everyone ready to share the group's vision and welcome anyone who shares the tenets and aspirations of the group. He further stated the aim of the group as canvassing and convincing electorates to vote for Asiwaju/Shettima in the forthcoming 2023 general elections.
The event which was held at SIITA Hall, Alagbaka Akure, Ondo State on Tuesday 27th September 2022 ended on a light note as members, leaders, and political affiliates networked amongst themselves.