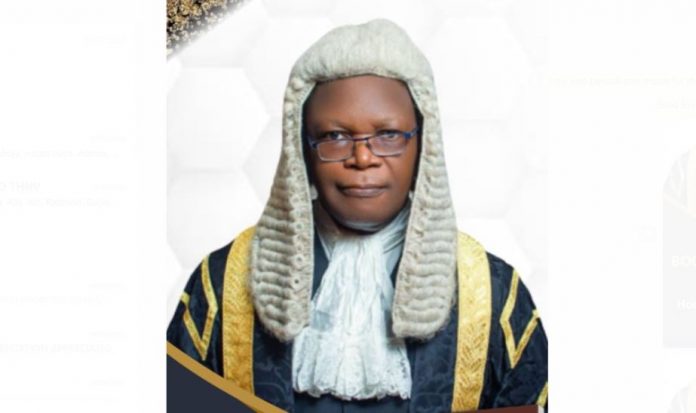 By Fatai Abiodun
It was Albert Einstein a German-born theoretical physicist, widely acknowledged to be one of the greatest and most influential physicists of all time who noted that "Life's good when it's lived for oneself; it's great when lived for others. The true means of happiness is to lose your mind by thinking for others!."
Relying on the above submission, one of the surest ways to live one's life for others is to be a judge that would be correcting wrongs. I do say that on the Day of Judgment, one of the most important tasks God will do is to give justice.
The celebration of one's birthday gives associates, friends, families, and the public an avenue to express their opinions and thoughts about the celebrant.
For Hon. Justice Dele Peters, his affinity to stand out is not only defined by the niche he has graciously carved for himself on the bench but a good heart he has demonstrated towards the cheated, weak, and downtrodden in society by using the instrumentalities of the rule of law to restore their hope.
People clock 60 years every day but many do not have a colossus reason to celebrate their true essence of existence. From any angle one chooses to look at it, Justice Dele Peters is an astute jurist of high repute, and a rallying point among friends, peers, family, colleagues, and places of worship.
It's a common saying for those around him to testify that what My Lord cannot give does not exist. Justice Dele Peters is sufficiently endowed with the anointing of unpretentious care and love for others especially the downtrodden, not on the basis of religious or ethnic background but for the very fact, that they are humans.
Sometimes I do wonder how can one quickly understand a judge like that, if you need the attention of My Lord, just express through facial expression that My Lord that someone has cheated on you. My Lord antenna would rise and the rest would be history. When My Lord is angry with you, no one needs to tell you. His type does not hide feelings.
The Ekiti-born and Ibadan-groomed Judge did not become a celebrated quintessential jurist by accident but as a result of hard work, sacrifice, and a strong affinity for justice. I must say that My Lord belongs to the cadre of the finest jurists that existence has produced.
Prior to My Lord's elevation to the bench as a Judge of the National Industrial Court, he had joined the Nigerian Institute of Advanced Legal Studies, University of Lagos as a Research Fellow from where he rose to the position of Senior Research Fellow and Head, Department of Public & Private Law.
My Lord also served as the Research Assistant to the then Chief Justice of Nigeria, His Lordship, Hon. Justice Muhammad Lawal Uwais. No wonder, when he roars, the courtroom obeys.
It will amount to an understatement to state that Justice Peter has contributed immensely to the development of labour jurisprudence in Nigeria. As an accomplished legal practitioner before ascending the judicial ladder, Justice Peters came to the office well-prepared, and it is always a joy for hard-working legal practitioners to appear before my lord.
I can boast of requests from many lawyers who had chatted me in private that I should hint them whenever My Lord delivers judgment, this is because of the richness of the decision and radical judicial thought.
My Lord's judicial success stories and untainted record while serving in Lagos Judicial division and presently as a presiding Judge of Ibadan Judicial division of the court to list but a few are testimonials of a judicial titan.
The workaholic jurist, known for his thorough peaceful disposition to justice and as an avid alternative dispute resolution expert leaves no one in doubt that truly, its 60 years of golden and peaceful existence.
It was Soren Kiekargard that expresses that "if you don't want to be forgotten, write a book". The public presentation of the book on Alternative Dispute Resolution (ADR) in Nigeria: Principles and Practice written by My Lord, Justice Dele Peters in commemoration of his 60th birthday celebration is something prosperity would continue to remember him for.
With the array of Judges, Senior Advocates, and uncountable members of the bar and judicial staff that graced the 60th memorable celebration at the Afe Babalola Centre, Ibadan on Friday 5th August 2022, Justice Dele Peters has proved that when a person is determined for a job, their origin and background do not interfere with their performance.
My Lord Sir, it's common to hear people saying intellect and knowledge rarely come hand in hand, but this is not true in your case. You are a quintessential jurist who has many more qualities to be praised for.
I have every reason to join your families, friends, and well-wishers to say happy birthday to the pride of fatherhood, a father with the perfect blend of charisma and leadership.
As one of your boys with Ekiti blood, one needs not to bother about the joy of tomorrow as far as you lived. My Lord Sir, your life of glory will not be cut short. God will replicate another 60th celebration for you in good health and prosperity.
Happy birthday My Lord!
Fatai Abiodun is an ICT Expert, Journalist, and Public Affairs Analyst | albarka200709@yahoo.com