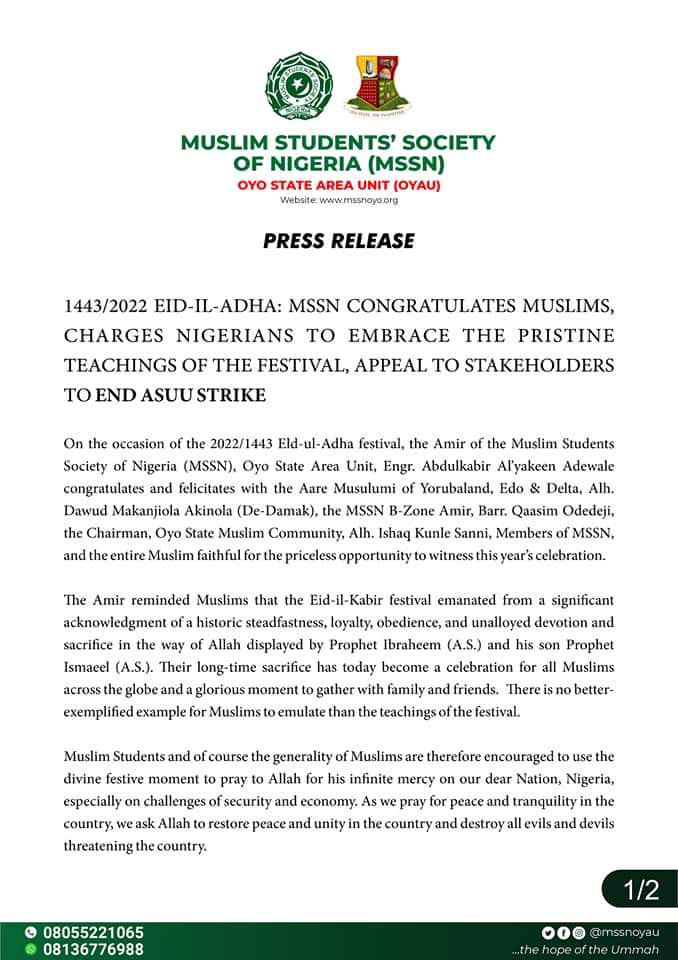 10th Dhul-Hijjah, 1443/ 9th July 2022
On the occasion of the 2022/1443 Eld-ul-Adha festival, the Amir of the Muslim Students Society of Nigeria (MSSN), Oyo State Area Unit, Engr. Abdulkabir Al'yakeen Adewale congratulates and felicitates with the Aare Musulumi of Yorubaland, Edo & Delta, Alh. Dawud Makanjiola Akinola (De-Damak), the MSSN B-Zone Amir, Barr. Qaasim Odedeji, the Chairman, Oyo State Muslim Community, Alh. Ishaq Kunle Sanni, Members of MSSN, and the entire Muslim faithful for the priceless opportunity to witness this year's celebration.
The Amir reminded Muslims that the Eid-il-Kabir festival emanated from a significant acknowledgment of a historic steadfastness, loyalty, obedience, and unalloyed devotion and sacrifice in the way of Allah displayed by Prophet Ibraheem (A.S.) and his son Prophet Ismaeel (A.S.). Their long-time sacrifice has today become a celebration for all Muslims across the globe and a glorious moment to gather with family and friends. There is no better-exemplified example for Muslims to emulate than the teachings of the festival.
Muslim Students and of course the generality of Muslims are therefore encouraged to use the divine festive moment to pray to Allah for his infinite mercy on our dear Nation, Nigeria, especially on challenges of security and economy. As we pray for peace and tranquility in the country, we ask Allah to restore peace and unity in the country and destroy all evils and devils threatening the country.
The Amir also urged Nigerians to pray for Allah's guidance and protection as the country is heading for another general election next year. We should all pray to Allah to bestow us with leaders that would lead us with utmost fear of Allah and rule with justice and fairness. The Amir also strongly encourages members to register for their permanent voter's card (PVC) and stop being election speculators, rather actors in delivering a better Nigeria.
Mallam Abdulkabir also uses this medium to passionately appeal to all stakeholders to sheath their swords and end the 4-month long ASUU Strike which is fast crippling the educational sector of the country. Of course, when two elephants fight, the grass suffers. Members of MSSN are the proverbial grass that has suffered the ASUU Strike. Please #ENDASUUSTRIKENOW
Finally, on behalf of the leadership of the MSSN Oyo State Area Unit, the Amir wishes all MSSN members and the entire Mulsim Ummah a joyful and eventful Eid-il-Kabir.
Eid Mubarak! Taqabala Llahu Mina wa Minkum.
*Signed:*
_Olaiya Abdulrahman Olawale Esq._
_PRO_
_MSSN, Oyo State Area Unit_
https://m.facebook.com/story.php?story_fbid=3999864133572637&id=100006472685353