—
Mr Atanda Jimoh Adetunji was born on the 4th of November 1960, to the families of late Pa Atanda of Ikare Akoko Ondo State, his mum hails from Inisha Osun State.
He started his primary school Education in Kaduna and attended Ansarul-Islam Grammar School Ijomu Oro in Kwara State between 1972 and 1977, and also did some courses at the Diploma level including NABTEB.
In his pursuit and dedication to seek more knowledge, he attended Imo State University, Owerri, and bagged a degree in Government and Public Administration.
He started work at the Nigerian Airport Authority and left in 1987 for Ondo State Judiciary where he worked as bailiff and rose to higher Registrar Grade Level 8 between 1987 and 2003. (18 years).
As history shine on him, he got transferred of office to National Industrial Court in 2004 and rose to Chief Executive Officer Litigation Grade Level 14 in 2019, and by the grace of God's, he retires from service on November 4 2020 having attained the statutory age of 60.
Below is the excerpt of our interview with him recently—
Question: Sir, since you were transferred to Lagos, have you ever serve in another Division?
I have never served in any other division, throughout my stay in Industrial Court, I have been in Lagos, the immediate Past President Justice Adejumo in his wisdom said he wanted to reengineer the registry he met in shambles so he wanted somebody who has the experience of law and litigation and knowledge of the system to salvage the situation, he sacrificed assiduously for my service transfer from Ondo State Judiciary to the Court. So I was posted to Lagos being the Court's headquarters then.
Question: Did you regret working in Industrial Court?
NO! I thank God that most of the things I achieved with my colleagues are there for everyone to see. At the Appeal section, I started the appeal and the standard I set there is now adopted all over the court today. And also the litigation section, I started most of the processes, I taught them how to draw order, endorse files, how to make so many processes.
How can someone describe the feelings of the Court that has given hope to the populace and downtrodden in the society? Sometimes I do imagine that the rate of suicide would have been much in the Country if the Court is not in existence.
If not for the court, many people's lives would have turned miserable for life and that would affect their generation. Thank God that working in the Industrial Court is like working for humanity.
The clear agenda of the Hon. President, Hon. Justice Benedict Kanyip on the effective administration of Justice sends a signal of hope in the Court and is something worthwhile for the Judiciary as the last bus-stop of agitation. If people can have trust in the Court, then hope is not lost. I have seen many hope restored and a few dashed away due to the negligence and unpreparedness of their lawyers.
As someone who worked in the bailiff section throughout my stay in the Court, I have interacted with many outsiders, lawyers, and non-lawyers and I can say it authoritatively that the National Industrial Court is known today as the most functional Court in Nigeria and Africa at large. With the innovation of the Mobile App called NICN App, the lawyers have expressed satisfaction and find it useful very well for their chambers. Many times, we went to serve the Notice, they will say we are aware of the next sitting via the automated message on their phones and email address, they praise the court in our presence and one is proud to work in such an establishment that works for all.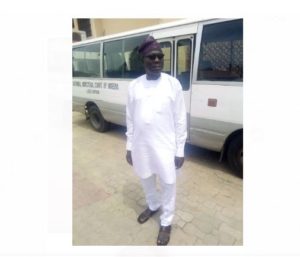 The Industrial Court has set the standard for other courts to emulate, apart from the electronically generated proof of service document, the standard of uploading delivered judgments and rulings immediately and can be accessed via the internet from the comfort of their homes and offices irrespective of their locations is something the lawyers and the public are happy about. And am happy that all these started while in service. I used to say that even if you know Buhari or Obama or Trump, the Court will give judgment irrespective of your status.
I can say it without fear or favor that the Industrial Court has brought sanity to employment relations in Nigeria and Africa in general.
Question: It is the prayer of every civil servant that when they join service they should not die there but to meet their retirement, now that you are retiring on 4th November 2020, what will you miss from the Court?
I will miss my colleagues both male and female, I will miss my senior colleague from the registrar down to the last person, I will miss their association what we do together, and how we do all those things because we don't discriminate we work. We're like a family, I will miss that seriously, and I will also miss some of my good friends and others who are not only very close to me but who are part of my progress.
Question: How are you preparing for your life after retirement, what plan do you have on the ground?
I hope to settle down in my house if that is the wish of God, if I am called upon for another service I am very ready to do that because I am still agile even at 60 I can still pick up appointment till seventy because of the strength that God bestows on me.
Question: What if the appointment does not come, what plan do you have, I ask so that others can share in your view or plan and can extend hands of fellowship to you?
I like to train my juniors, those who are below me, those who I supervise, they know that I cherish knowledge, competence. I want people to be very competent in whatever they do. So if given the opportunity even at the Industrial court, when I was at the bailiff in Ondo state I used to do most of those things so I will be very ready if called upon to impact this knowledge.
Question: As you will be leaving, do you have any message for your junior?
Yes, my message for them is that is the keyword for them to be successful in life and career is their loyalty and honesty to the establishment and constituted authority. If they are not loyal, they will be shown the way out, if they have honesty they will make it in life. The industrial court is not a place to make money but to make a career, you can make a name. In industrial court, you will have the experience that will take you places and your name will be written in bold.
Question: sir, who are the people you have worked with?
I worked with the Chief Registrar Mr. Olurotimi Williams Daudu Esq., I worked with the director of Admin Mr. Alhaji Mohammed Karaye, I also worked with the director of Finance and Account Alhaji Bello, I worked with Mrs. Elelu the head of Audit, I worked with Mr. Nurudeen Safana the Chief Librarian, I worked with the divisional registrar Mr. Bamodu and lastly Mr. Tarfarki and my supervisor in the litigation department Mr. Olusegun Oluyomi then my immediate colleague my respectable 2ic, Mr. Ibrahim Osinowo follow by Mr. Taiwo Ayodeji and Miss Adelaja Olufunmilola.
I also worked directly with the past president of the Court, Justice Babatunde Adejumo OFR, and a scholarly and erudite Jurist, His Lordship, Honourable Justice Mustapha Tijani.
Question: when was the happiest moment for you when you were in service?
The happiest moment in service was in 1989 I applied for conversion to the clerical cadre, my request was approved and I got the letter for my conversion from the bailiff cadre to another cadre, it never happened in the history of the judiciary system. It was a well-deserved conversion also I was among the only 6 officers that passed the confirmation and promotion examination in 1989 out of about 3 thousand people. And also when I got my visa to travel out of the country I was very happy because it never happened before, I was the first to make that type of journey in my family so I was happy.
Question: when is the regrettable day in service?
The most regrettable day in my career was when I was wrongly accused of collecting money from the appellant, I was demoralized. The panel of enquiry was set up and I was asked to step aside from duty for a while, but in the end, I was vindicated.
Question: What is your prayer for the Hon. President and the Hon. Judges of the Court
My prayer for him is that he will succeed, and overcome all challenges and also retire in peace. To our respectable Judges, God will grant them wisdom and grace to continue to dispense justice as it ought to be.
Question: What message do have for the Court's registrar
I will advise them to be diligent, hardworking, and be loyal to the Cause of the court, that is the vision and mission statement of the Court, and I pray the Almighty Allah will continue to help the Court in all ramifications.
Mr. Atanda can be reach on 0803 440 3987