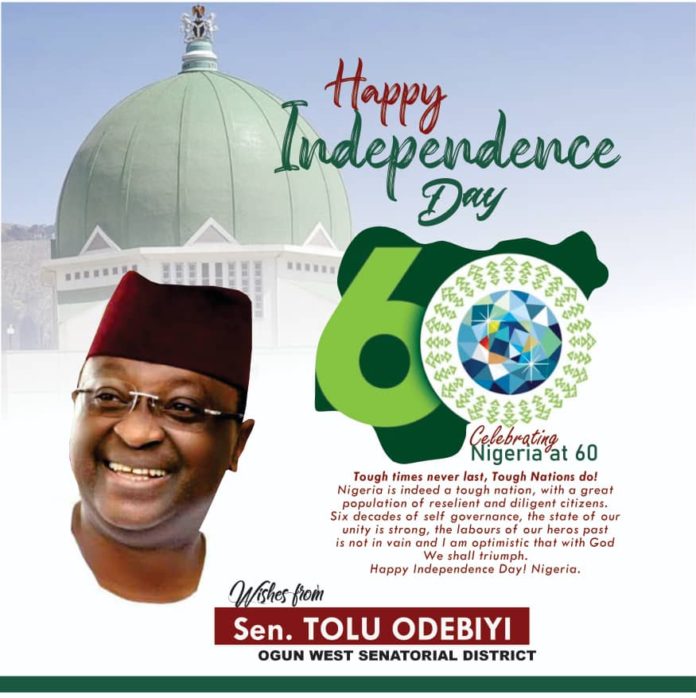 The Senator representing Ogun West Senatorial District, Sen. Tolu Odebiyi rejoices with Nigerians as Nigeria celebrates 60 years since independence from colonial rule.
While noting the significant contributions and the indomitable spirit of the great heroes of Nigeria, the Ogun West Senator said, "Today, all hands must be on deck to meet the yearnings of the people. We are in a season where people expect growth, development, prosperity, peace, quality education, security of lives and property. These are the things we should all pursue to better the lives of our people", Sen. Odebiyi said.
The Senator went further to say that, "In the last one year we have been working tirelessly towards this vision of prosperous and glorious future for our unemployed youths in Ogun West Senatorial District, and we will not relent in our efforts to create more jobs through agriculture and entrepreneurship for our teeming youths in Ogun West Senatorial District".
Sen. Odebiyi uses the celebration of Nigeria's Diamond Jubilee to appreciate the great people of Ogun West for their unflinching and unalloyed support as we continue to tread the path of greatness together.
Sen. Odebiyi also prays that God Almighty will help the nation to grow in leaps and bounds.