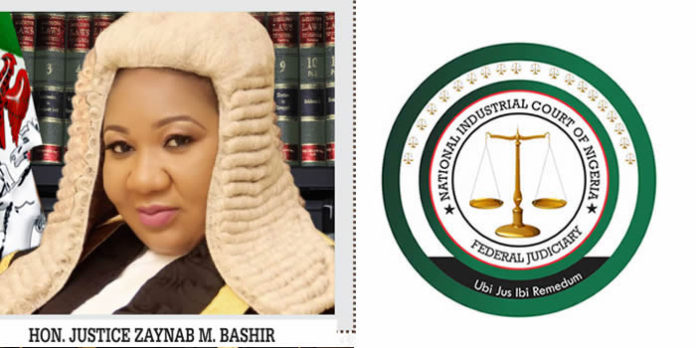 His Lordship, Hon. Justice Zaynab Bashir obtained a bachelors degree in Law from the University of First Choice, University of Benin and attended the Nigerian Law School in 1998.
Propelled by an undying thirst to be fully acquainted with Law, she proceeded to the University of Abuja and obtained a Masters degree in Law with distinction.
Milord performed her mandatory NYSC primary assignment at the Supreme Court of Nigeria during the 1997/98 service year. She cut her teeth as a counsel in the legal firm of Samuel Zibiri SAN & Co in 1999 and then joined the FCT Judiciary as a Legal Officer in 2000; appointed a Magistrate Grade I in 2002 and then rose through the ranks and appointed a Chief Magistrate in 2009.
In deserved recognition of her zeal towards dedication to duty, excellence and service delivery, she became the recipient of the Distinguished Service Award for Excellence from the FCT Judiciary 2003/2004 legal year.
Justice Z. M. Bashir served in the first FCT Election petitions Tribunal for Area Councils in Abuja as a member. She was the presiding magistrate for AMAC Revenue Court and the family court in FCT.
During her career in the magistracy, she had publications in her name and many published articles. She holds the membership of many professional bodies like the Institute of Chartered Mediators and Conciliators (ICMC) NBA, FIDA, IBA National Association of Family Court Judges and Magistrates, Magistrates Association of Nigeria where she served in various capacities. She was an External examiner for the Nigerian Law School due to her love for academics.
Quintessentially, In 2017, Justice Zaynab Bashir was appointed a judge of the National Industrial Court of Nigeria and was sworn-in by the then Chief Justice of Nigeria, Hon. Justice W. S. Onnoghen following the acceptance of her nomination by the President Muhammadu Buhari GCFR.
She is currently pursuing a PhD in Law at the University of Abuja with emphasis on Labour Law and Industrial relations.
Justice Z. M. Bashir is widely travelled and has attended several conferences in Nigeria and abroad.
His Lordship, Hon. Justice Zaynab Bashir presently presiding at the Port Harcourt Judicial division of the Court and just concluded serving as 2020 annual vacation Judge, Abuja division. Milord is happily married and blessed with Children.
Source: https://www.nicnadr.gov.ng/