WELCOME BACK SANNI ISSA ||
The former danjuma babes fc product  SANNI ISSA have recovered fully from hamstring injury he got late last year. Sanni  scored the first-ever Manukau United goal back in 2018 against Waitakere City and ended up with the NRFL Premier League Golden Boot New Zealand  and now he's back stronger than ever to do it all again in 2020!
Everyone knows how dangerous Sanni can be in the final third causing mayhem to any defense line. Great athlete with amazing  skills coupled with express pace and football intelligence make Sanni difficult to stop. He makes  Manukau's forward line even more formidable! A key part and pioneer in the Manukau United's first team throughout the  two years he spent.  Sanni is looking forward to continuing where he left off and linking up with his Manukau United brothers again in 2020!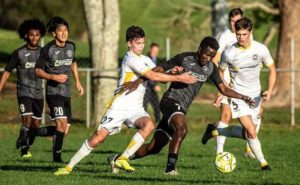 Welcome SANNI back to Manukau whānau! 🖤

GET TO KNOW SANNI
What is your favourite thing about Manukau United so far? I can't choose just one thing.
There's a lot to love about Manukau!
What is your favourite position on the pitch?
Striker or left midfielder
Favourite football player?
Pepe
Favourite football club?
Liverpool FC
What are some of your previous clubs?
I've played at too many clubs 😂. But I will always be  greatful to danjuma babes fc because thats where my talent was found
A SECRET talent you have?
Cooking African food
Favourite food?
Love my noodles
Favourite music to listen to pregame?
Akon – Never Took the Time
Hopes for the 2020 Season?
Always want to give back something to this club. I hope this is the time!
Favourite quote?
"Don't worry about the people who aren't happy for you .they probably aren't happy for themselves either"
#Dbabesfc
#danjumababesfc
#ManukauWhānau
#ManukauHard
#ToTheTop