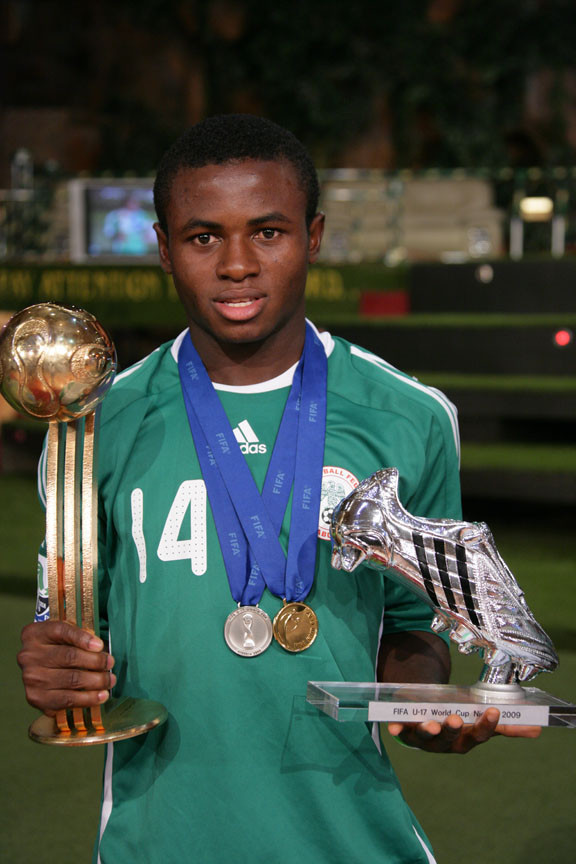 Remember Sani Emmanuel? That prolific footballer that made headlines for his performances in the 2009 u-17 FIFA World Cup….Well he has now come out to reveal why he retired prematurely from his football career even though Chelsea football club of England and Lazio FC of Italy wanted to sign him.
Emmanuel was awarded the Golden Ball as the Most Valuable Player of the 2009 FIFA U17 World Cup hosted by Nigeria, scoring five goals to help the Golden Eaglets of Nigeria reach the final of the competition, and after the Under-17 World Cup, Emmanuel had successful trials at Chelsea and Tottenham Hotspur but the moves never went through.
Emmanuel has now revealed how his injury stopped him from progressing and how many professional footballers he turned to for help couldn't help him.
Emmanuel told Leero Sports News : "I had problems on my foot, even during the tournament in 2009.
"If you remember, I often came on in the second half because the pain was unbearable.
"After the World Cup, I could not play at all because I had played too much with pain. Then I had to stop my career, even today, I always feel hurt on the front of the foot."
"I tried to contact a lot of Nigerian international players, but I never got an answer and it was very difficult to get money.
"I returned to anonymity, without work, without anything. I wanted to set up an academy, but I never managed to get help and I'm still looking for it."