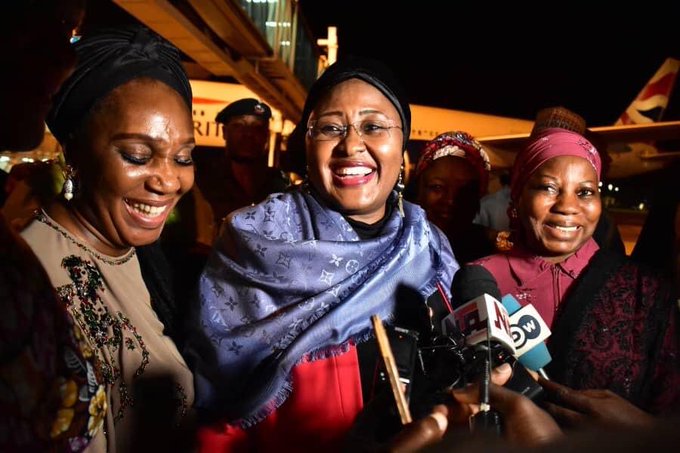 Aisha Buhari, the wife of Nigerian president has denied there was any rancour between her and President Muhammadu Buhari, which forced allegedly her to stay away from the country for an unusually extended period.
Mrs Buhari arrived at the Nnamdi Azikiwe International Airport, Abuja via a British Airways flight.
Mrs Buhari told the government-owned Nigerian Television Authority shortly after she returned to Abuja around 5 am on Sunday morning that she was in the United Kingdom to be with her children.
She said she also saw her doctors while she was there, adding that she has always travelled out for vacation for six weeks every year. This, she said, was nothing unusual.
"It has been a tradition for us. For like 20 to 27 years now, if our children are on holiday, we used to spend holiday with them," Mrs Buhari said.
"I never abandon my children and last year, I went to Spain and spent two months with Zahra when she gave birth.
"So, the same this year's holiday in U.K, I fell sick. So, I stayed back to see a doctor and the doctor advised me to stay back to attend to my health.
"From the U.K., I travelled to Saudi Arabia for Hajj and returned to England on doctor's advice and they also advised that I should slow down my activities.''
Mrs Buhari said she was able to focus on her health and "family" because President Muhammadu Buhari approved the appointment special assistants to her office to assist her achieve her mission of improving the lives and wellbeing of women and children in Nigeria.
Her silence while she was away generated a few rumours. It was insinuated that she irked the oft-mentioned powerful cabal in the presidency and was pushed to the background.
The rumours got to a head during the week when it was rumoured that Buhari was going to take another wife as a punishment for the First Lady.
Mrs Buhari chalked the rumours down to fake news, negative impacts of which she said her family has endured in the past.
"The genesis of this fake news started when my husband fell sick and perpetrators of this act were showing fake Ambulance, Hospital and dead body suggesting that my husband is dead," she said.
"That time, I received so many calls from other first ladies and Presidents of other countries to confirm; so I called the attention of NCC, NBC and the National Orientation Agency.
"Fake news will lead this country to something else if actions are not taken with immediate effect."