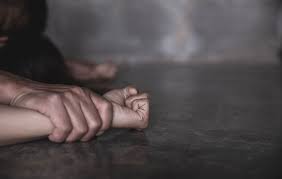 All around the world, especially in Africa, young girls find themselves in an insane environment where sexual abuse is inevitable and seen or accepted as a norm.
In most cases, some of the abused girls have no voice, can't speak or open up for fear of being stigmatized.
These young girls are molested, threatened, deceived, trafficked and sometimes confined to a place against their will and freedom for selfish purposes.
This cruel and mindless abuse happens in homes, offices (where an employer will want to have carnal knowledge of a young lady before employing her) colleges and it is becoming a trend.
A very recent case is the one of 'Sex for grades' scandal in the University of Lagos and the University of Ghana. An undercover reporter of the BBC, Kiki Mordi, herself a victim of sexual abuse while in the university, exposed lecturers of the schools for attempting to lure young girls into sleeping with them.
Sequel to these reports of sexual abuses, and the inability of the girls to speak up, 'Talking Boxes' an initiative has now been introduced in Kenyan schools by a UN-funded non-governmental organisation, Polycom Development.
The initiative is to enable young girls to speak up and be assured that there are people who want to genuinely hear them and fight for their cause.
The 'Talking Boxes' have been set up in 50 schools already and are usually placed outside bathrooms and discreet places to allow for privacy especially in mixed schools.
Jane Anyango, founder of Polycom Development says that some of the girls who are willing to speak do not have weighty issues in their hearts . "That is why I have thought of coming up with a way of listening to these girls'.
When school girls report sexual abuses to us, we refer them to other organisations that can help with counselling or assist them to file a case with the police, she adds.
Anyango also pointed out that not all notes in the 'Talking Boxes' are about sexual abuse "… sometimes, they ask questions that they are shy or embarrassed to ask in person'.
In one of the notes, a girl asked what is pregnancy and how can one get pregnant?"
A 14-year-old with an abusive, drunken father, wrote "I now feel free because I can express myself and get help. We feel more comfortable. We feel happier".
Rape is unlawful sexual activity typically involving sexual intercourse done forcibly or under threat of injury against a person's will. Rape is a worldwide problem.
It is estimated that approximately 35% of women worldwide have experienced some form of sexual harassment in their lifetime.
In the majority of countries that have data available on rape, it is reported that less than 40% of women who experience sexual violence seek help while less than 10% seek help from law enforcement.