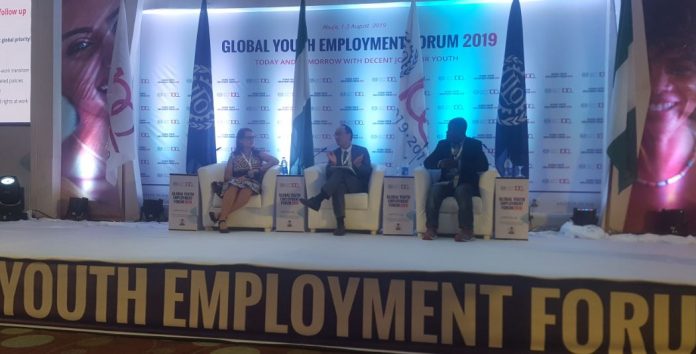 Abuja—The President of the National Industrial Court of Nigeria, His Lordship, Hon. Justice Babatunde Adejumo, OFR today graced the International Labour Organization event to commemorate 2019 ILO Centenary Anniversary celebration which centers on Global youth Employment Forum.
The Unique tripartite structure of the International Labour Organization –ILO gives an equal voice to workers, employers, and governments to ensure that the views of the social partners are closely reflected in labour standards and in shaping policies and programmes.
The Centenary anniversary attracted labour and employment stakeholders, captains of Industries, about 250 youths across the globe who were entrepreneurs and representative of social partners to discuss challenges facing youth unemployment and proffer solutions.
The National Industrial Court of Nigeria is a specialized court with exclusive jurisdiction in Civil Causes and Matters relating to, connected with or pertaining to the application or interpretation of International Labour Standards.
Declaring the occasion open, His Excellency, President Muhammadu Buhari who was represented by the Secretary of the Government of the Federation, Boss Mustapha enjoined delegates to tap in the strides and effort of the Buhari's administration towards guaranteeing Jobs security and preparing work for the future.
The Permanent Secretary Federal Ministry of Labour and Employment, Mr. Willam Alo appreciated the presence of the Director-General of the International Labour Organization (ILO) Mr. Guy Ryder, and delegates from the Member States and all attendees for participating.
Others personalities who graced the occasion were heads of labour unions and many others.